Larry Boyer
was born and raised Tucson, Arizona, to parents in their older years, and was their only child. Essentially because of these circumstances, he found that his world revolved around his ability to cause things to happen for himself.
As Larry Boyer grew older, he found that his greatest asset was his ability to see things differently, not only in thinking, but also in endeavors different from most others. His greatest challenge, as it turned out, is his difficulty to gain peace within himself as he carved his own way along new-found paths.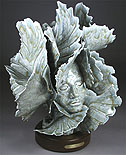 What this turmoil has done for him, though, is cause him to discover some of the personal essentials necessary for design. It is the emotional upheaval of this battle between the new and the past ways of doing and seeing things that seems to produce the adventures in design he needs.

Larry Boyer found that it is all in the synapses between things such as love and fear, hate and boldness, joy and impatience, where the productive forces converge for new ideas - and so, fortunately, the battles, the turmoil, as well as the pain, continues.
Following is a rundown of Larry Boyer's career objectives, educational experience and work history:
---
CAREER OBJECTIVES
Larry Boyer's objectives include continuing to working full time as a studio artist, specializing in abstract ceramic sculpture, charcoal drawing, acrylic paint sculpture and oil painting.
EDUCATION - (degree path):
Spring 2005/December 2017:
Montana State University, Bozeman, obtained BFA in studio art with emphasis in ceramic sculpture (completed degree requirements spring, 2005); overall GPA: 4.0 with formal graduation December 2017.
Academic organizations:

The Honor Society of Phi Kappa Phi
Golden Key International Honour Society
EDUCATION - (non-degree path):
Acrylic paint sculpture
Realistic charcoal drawing
Fine art photography
Piano
Public speaking
Web design & development

University of Idaho, Moscow, Idaho; FORTRAN 77 programming.
University of Arizona, Tucson, Arizona; 3 semesters architecture.
University of Arizona, Tucson, Arizona; senior, chemistry major, with physics/math minor.

WORK HISTORY:

Chemist
Locomotive Engineer
Architect
Artist
Web Designer

---

Copyright © 2003 Larry Boyer All Rights Reserved

Broken Sky Fine Arts & Web Design