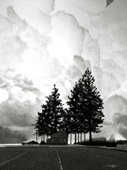 Surveying my realistic western charcoal drawings, what is ultimately apparent is the sense of loneliness, emptiness and severity of beauty found in the western United States.
Although these realistic charcoal drawings* have a photo real quality about them, that is not the underlying purpose for them. Indeed, by photography one can achieve those ends readily without spending hundreds of hours doing it. No, but the realism is intended to bring the viewer into the experience immediately without the encumbrance of "artness". In this way, it is hoped that people can supply the scene with their own finishing "mental artwork", removing or resolving perceived ambiguities in their own way.
Another intended effect is to give the sense that this scene is crafted by hands and has the feel of soft imagination rendered with care rather than by machine and chemistry. I feel that this method gives a more realistic sense of "earth" than other ways of capturing these sensitive western, yet often severe, subjects.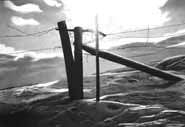 Though one is quickly and involuntarily drawn into the visual experience, the resolving of the forces will take time, and will, thereby, cause a person to have a relationship with the work. It is this imaginative interaction with the western scene presented and its final completion by the onlooker that drives this art.
The titles are given as a "handle" for the "problem", and then one can supply the energy necessary to craft his personal conclusions. As is usual with these works, one comes back over and over again and perceives a freshness of experience, as one would if the actual scene was displayed in front of them.

-Larry Boyer
---
Copyright © 2003 Larry Boyer All Rights Reserved
Broken Sky Fine Arts & Web Design