"Facing West" . . .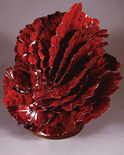 What is seen in these western, abstract ceramic sculptures are the articulations of the emotive forces found in all creations, including us. And so it is that this sculptural work is about perceiving and emulating the emotive forces found in subjects and concepts uniquely related to the western United States. The resulting vectors of emotions are fluid and forceful, and as such, gesture boldly the personifications suggested by their titles*. The faces in these sculptures represent our personal perception of the emotive forces depicted here.
Because clay has intrinsic earth qualities that are synergistic with formable dynamic emotive vectors, a bold expression can be obtained that naturally draws the viewer into the work involuntarily. This intrinsic, pain and power, inside out approach is the driving force that provides the dynamic for direction, excitement and personal discovery.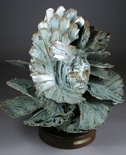 When a piece is started, a check is made of the artist's emotional quotient. The work is then begun and as the piece progresses, more and more emotive tangents are added until "sculpturally speaking" nothing more can be said emotionally. After the bisque firing comes the second and most difficult part of the emotional equation: The selection and firing of the glazes. Here is where the full "color" of the personality - its "soul" - appears.
This process of form and glaze is quintessentially intrinsic to arriving at a complete emotional statement that must be made about the subject. Often times this happens even though it is not clear what is being founded. It is at the point where the triangular balance of surface, form and fire creates a unique personality of tension that powerfully asserts itself on the viewer. It is actually a reflection of our own dynamic personalities, our own hidden characters, when we find ourselves - -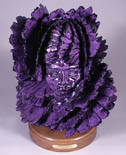 "Facing West". - Larry Boyer






* Please click on images for enlargement.

---
Copyright © 2003 Larry Boyer All Rights Reserved
Broken Sky Fine Arts & Web Design